Dog walking : Forest walks
We come to your home for dog walks in the forest, where we have created various courses for games and relaxation. Our vehicles are specially equipped and have many windows, to ensure comfort and safety. The groups of dogs are formed according to their behavior and their physical condition, to ensure a quality dog ​​walking service.
Dog walks in the forest are the best way for them to socialize more with other dogs and may prevent them from barking at other dogs in the street. They will be able to spend their boundless energy, which may avoid the little nonsense of which they can be guilty in your home (torn sofa, barking, or little wee).
Our dog walker teams will walk your dogs on identified and lively courses to combine games and physical balance:
Dog walks in Paris at the Bois de Boulogne,
Dog walks in Neuilly on the Ile de Jatte,
Dog walks in the forest of Saint Cucufa in Rueil Malmaison,
Dog walks in Paris at the Bois de Vincennes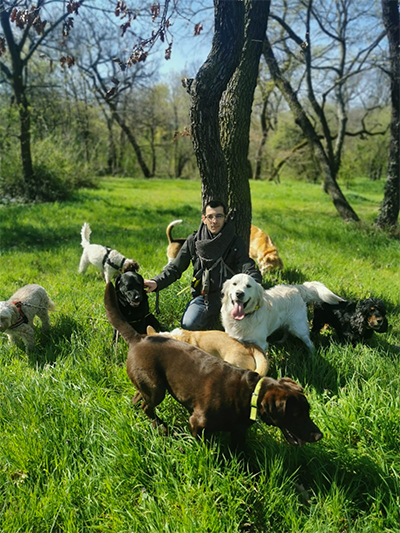 The 1 hour dog walk in the forest plan: for adolescent dogs, and puppies:
These dog walks are done in the morning because we know that young dogs, until they are 5 to 6 months old, should not run too much (and this is especially true for dogs of large breeds), in order to preserve their growth.
Likewise, your dog of 11 or 12 years old starts to have certain locomotion problems, or simply to keep up with the rhythm of a walk longer than 1 hour in the forest.
We believe at Doggies et compagnie, that all dogs have the right to enjoy the forest and the company of other dogs throughout their lives and we offer these 1 hour walks with our dog sitters, this way owners with a small budget can offer their dog these moments of play, relaxation and simple canine pleasures.
The 2-hour forest dog walk plan: for all dogs of running age and with a sociable character:
These dog walks in the woods are done in large groups allowing your dog to improve his socialisation skills. Obviously, to have your dogs walk for 2 hours, you have to get out of Paris and we have fitted out our vehicles with windows to avoid the feeling of being locked in.
Your dog will benefit from wooded spaces supervised by walkers to allow them to both let off steam and to learn about behavioural codes among other dogs.
These forest dog walking services are available on the basis of regular visits (daily, weekly or monthly) as well as a trial session which is scheduled by a simple phone call and after which we can determine if your dog can join our groups of dogs.
If your budget is limited, but you want to walk your dog and improve their socialisation with their congeners, we can offer you a mix of dog walks in the forest and dog walks in town every day from Monday to Friday, or even the weekend as well.
Quote & Reservation