With more than 1,500 dogs to their credit, the Doggies & Compagnie teams have developed an educational program for dogs and puppies, in order to provide dog training adapted to the urban and family environment.

Our dog trainers offer you a personalized educational session at your home to teach you everything you need to know about dog training in a family and urban environment: depending on your knowledge, this session can last between 1 hour and 2:30 and last ends with a walk with your dog on a leash in your neighborhood. Indeed, too often we neglect the virtues of walking on a leash with his dog: it is an essential element in the education of the puppy and the re-education of the dog, even an adult, to allow him to regain confidence in you. , his master and to learn to calm down when approaching other dogs.These puppy education sessions in town or in the forest do not require your presence: we teach the dog to behave according to the places where he is. finds and not people with whom he is.
At Doggies & Compagnie, we don't waste your time in a package of 10 sessions or more: 1 single dog training session at home is enough to teach you the essentials and then we implement the canine educational program, that we decide together based on training to walk on a leash in town and outings in the forest to work on the dog's recall and socialization. These puppy education sessions in Paris or its inner city do not require your presence: we teach the dog to behave according to the places where he is and not the people with whom he is.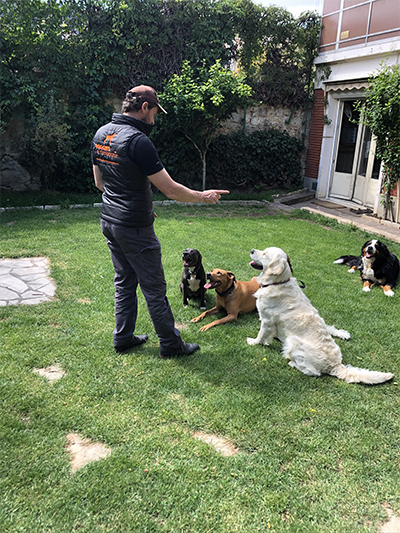 To reinforce your complicity and the training of your dog, our dog trainers offer canine training sessions in the forest, in order to put you in a situation with your dog in the presence of other dogs, without kibble, clicker or other artifice, that you will never have with you in case of need. This will help you understand your dog's sometimes complex behavior, both with you and with other dogs.
For the education of the puppies, before considering the walk in the forest, we help you to continue his learning and the courses that you will have possibly taken so that he quite simply learns to walk on a leash, then not to pull, to not to jump, not to bite, not to zigzag, to do your business where you need to in town and to stop at pedestrian crossings. We will always try to meet other dogs and children, so that your dog gets the most out of his outings. These educational dog walks in the city last 45 minutes at a very affordable price: allow about 1 to 3 weeks depending on his learning ability.
Contact us to make an appointment and tell us your wishes.
Quote & Reservation