Our philosophy and our commitments
Your dog will be happy
On a daily basis, dogs need to lead a social life in groups, where they can spend their boundless energy. This is the best way to keep them from getting bored, despite our affection for them. Our pets (for the vast majority of dog breeds) are happy running 1-2 hours a day and socializing with other dogs. If they are guilty of little nonsense (biting the sofa, pulling up plants, etc.), it is because their instinct takes over, because they are bored: the walk in a pack with other dogs is a must. imposed under the careful supervision of our professional dog walkers.
Our philosophy and our commitments
Your dog will be happy
While their owners are on vacation, some dogs cannot deprive themselves of human affection or the comfort of their home to keep their balance: boarding with our dog sitters will meet these needs.
For the education of your puppy, we will teach you everything you need to know in a maximum of one or two sessions, because we understand that your time is precious. We can then continue to educate your dog through educational walks in the city and socializing in the forest. We tailor your dog's education to your lifestyle, because there can be no happy dogs without a happy owner.
You are moving to the end of the world and you want to settle down peacefully while ensuring your dog has trouble-free air travel: our teams are there to accompany you and treat your dog like a real passenger and not just an animal in transit.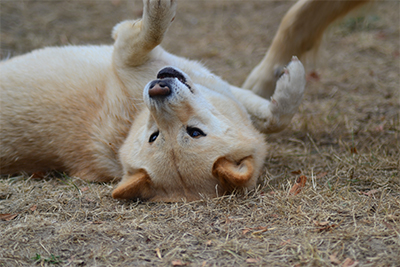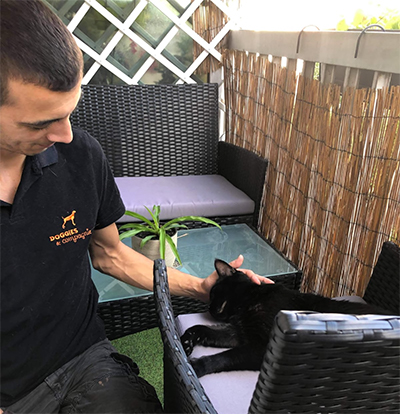 While you are away, your cat, even if he is the master of his home, cannot for a long time do without a certain animation of his environment. Whether affectionate, curious or fearful, he must keep his cleanliness and feed as usual, so that when you return, find your cat with all the serenity that suits him so well. Home cat visits are the ideal solution, when performed by trusted and trained cat sitters.
Doggies et compagnie is a serious company offering its customers dog sitters and cat sitters, duly registered and trained. All pet sitters, walkers, educators, cat sitters and family dog ​​sitters are employees of the company. Our desire: to meet the expectations of our customers by the seriousness of our procedures, aimed at professionalizing our professions, so that the animals entrusted to us are done in complete confidence and safety.
To do this DOGGIES & compagnie is a company, which has:
a quality charter, understood and accepted by all our walkers, dog and cat sitters and which therefore guides our everyday work;
the Declaration of Activity of its dog boarding establishment with the veterinary services of the Hauts de Seine Prefecture;
Approvals for the transport of live pets with the veterinary services: N ° 2011.03089, 2013-1075, 2013-1076, 2013-107.
In addition, our staff in charge of walks and transport benefits from:
the Certificate of capacity or equivalent, relating to the exercise of activities related to pets of domestic species issued by the veterinary services and the Hauts de Seine Prefecture;
of the certificate of training follow-up as a live animal attendant.
Our dog sitter families, our dog and cat sitters, whom we select strictly according to our values ​​and therefore the love they wish to offer and receive dogs and cats, are supervised as follows:
they benefit from our DOGGIES List, recalling the essential elements of their mission and the safety instructions, aimed at preserving the well-being and safety of the dogs and cats entrusted;
all of our pet sitters have had individual interviews and been the subject of scenarios before being entrusted with a mission. A complete file of administrative, educational and judicial information is made;
our pet sitters, trained in the field and supervised by our experts, can seek advice or assistance 7 days a week to respond to both emergencies and behavioral problems of entrusted animals.
For more than 10 years Doggies et compagnie has been recruiting pet sitters to confidently and professionally provide walks, sitters or home visits for your dogs and cats, in order to provide you with reliable and quality service.
We are insured for professional liability by the company MMA, which has shown us its confidence since the creation of the company for all of our activities.
Quote & Reservation