Taxi and international transport of pets: the cat & dog relocation
We offer a moving assistance service for your pets, from simple animal taxi transport to the airport, to transporting your pet by plane with a dog / cat sitter to your destination. . If you want to make your pet travel, avoid the stress of moving by entrusting us door to door transport of your dog or cat, depending on your destination.
For your moves abroad or your move to Ile-de-France, go with peace of mind to settle down with your family or to choose your future home, we take care of:
to accommodate your dog or cat during your absence with our family dog ​​sitters, in order to avoid being kept in a kennel,
to transport your dog or cat in animal taxis to the airport and to carry out the necessary procedures with the airlines,
carry out health formalities from Paris,
to provide you with cages suitable for the air transport of pets, IATA standard,
accompany your dog or cat by plane to avoid prolonged stay in a cage in the cargo space on departure and arrival,
to hand over your dog or cat to your home once there.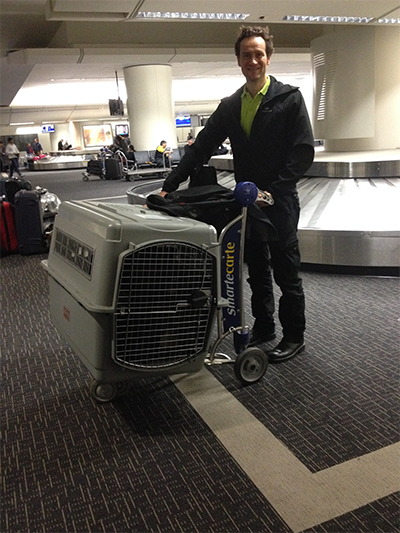 Depending on your destination, we will offer you a choice of airline, in order to guarantee direct flights for the safety of your animal. Prefer our comfortable solutions with the trip accompanied by a pet sitter.
If you simply want your dog or cat to travel by cargo plane, we will accompany you to our specialized forwarders, so that all the care is taken for your pet, so that it is not treated like ordinary goods:
by specifically preparing its transport cage,
by walking it just before check-in in the cargo area,
by acclimatizing it to the presence of other dogs in cages,
by providing you with all the documents necessary for its rapid recovery on arrival.
Also note that we provide on request all transportation by animal taxi to your veterinarian or to the grooming. Our Paris canine taxi service operates 7 days a week.
Quote & Reservation